MountainView Hospital congratulates Dr. Lynn Kowalski, Medical Director of MountianView Hospital's Las Vegas Institute for Robotic Surgery, on her 1,000th robotic case. Dr. Kowalski is board certified in Gynecologic Oncology.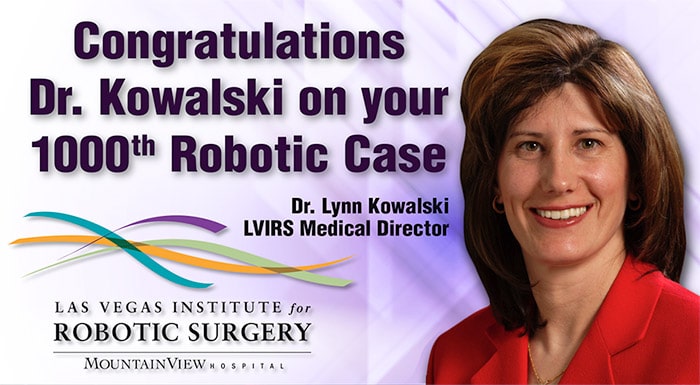 MountainView's Las Vegas Institute for Robotic Surgery provides a wide array of robotic-assisted surgery, including the specialty in gynecologic oncology.
MountainView Hospital is the only hospital in Las Vegas to take part in a clinical trial that uses Directed Imaging during minimally invasive hysterectomies for cervical and uterine cancer.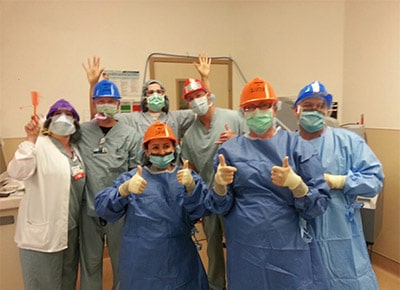 MountainView and Dr. Kowalski were chosen to take part in this clinical study because of the great track record of MountainView's surgical robotics program and Dr. Kowalski's depth of experience and knowledge with robotic and gynecological surgeries. Dr. Kowalski has been performing robotic hysterectomies since 2005 when she did the first case in the state of Nevada.
In addition to its gynecological expertise, MountainView continues to be a leader in all aspects of robotic-assisted surgery. MountainView recently announced that its talented surgical team completed a wedge resection and lobectomy utilizing the da Vinci Si robotic system – a first in southern Nevada. The Las Vegas Institute for Robotic Surgery provides patients with the option of robotic surgery, allowing for more surgical precision and improved care for patients.
ABOUT MOUNTAINVIEW HOSPITAL:
MountainView Hospital is a state-of-the-art, full-service medical facility located in the heart of northwest Las Vegas, one of the fastest-growing areas in the Valley. With a dedicated and talented staff of employees and outstanding physicians, MountainView Hospital (MVH) is recognized for high patient satisfaction and for providing quality and compassionate care to our community for the past 16 years. The hospital is a member of the respected Sunrise Health System consisting of Sunrise Hospital, Sunrise Children's Hospital, Southern Hills Hospital, and several surgery and diagnostic imaging centers offering a complete range of specialized and technologically advanced services.
Click here to read the full article.