DR. Lynn D. Kowalski M.D., FACOG, FACS
BOARD CERTIFIED IN GYNECOLOGIC ONCOLOGY
Dr. Lynn Kowalski attended The Johns Hopkins University where she received her Bachelor of Arts in Biology in 1986. Dr. Kowalski studied medicine at Washington University in St. Louis where she graduated with honors and developed her interest in gynecologic surgery.
Lynn D. Kowalski, MD, did her residency in Obstetrics and Gynecology at Magee-Women's Hospital in Pittsburgh, and then returned to Washington University in St. Louis for her fellowship in Gynecologic Oncology. Dr. Kowalski's research interests included the genetics of uterine cancer and a rare form of ovarian cancer called primary peritoneal cancer.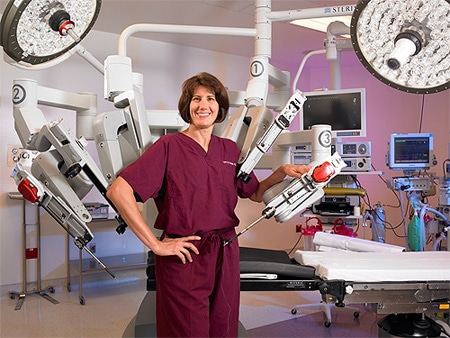 Dr. Lynn Kowalski moved to Las Vegas in 1998 where she has been practicing gynecologic oncology and founded Nevada Surgery and Cancer Care in 2005. Dr. Kowalski developed an interest in minimally invasive surgery in her residency training, and, here in Las Vegas, has established one of the busiest robotic surgery programs in the United States. She is committed to caring for her patients with compassion and expertise. That commitment translates into a strong dedication to utilize minimally invasive surgical approaches when applicable, even in cases that are especially challenging.
Passions of Dr. Kowalski outside of the practice of medicine include scuba diving and nature photography. Some selections of her photographs are on display in our office at 6020 S Jones Parkway.
Dr Kowalski is also the author of 'Not Your Mother's Hysterectomy', a book which seeks to educate and empower women who are facing the often daunting prospect of having a hysterectomy. The book draws on Dr. Kowalski's own extensive expertise in performing thousands of hysterectomies over the years, but is written in an easy to understand and engaging manner. Not Your Mother's Hysterectomy is filled with answers to questions that patients need to know, as well as anecdotal and personal accounts of women who've undergone a hysterectomy. If you or a loved one is faced with having a hysterectomy, then Not Your Mother's Hysterectomy is an excellent resource with which to educate yourself.
MINIMALLY INVASIVE SURGERY
Dr. Kowalski uses the da Vinci Surgical System… The breakthrough platform for Minimally Invasive Surgery. Watch our Video.